Spring Contest at The Crocheter's Treasure Box
I had mentioned sometime back about the spring contest I was participating in ....so now here are the pictures of my entries. There are two categories:
1. THREAD
This is my doily for the contest. Its called Carnation Rose doily from the book A Dozen and One Floral Doilies. The original did not have the beads in the doily but I just added them on to make it prettier. The picture does no justice to the doily , I'm afraid. Anyways, the close up picture seems to have come better.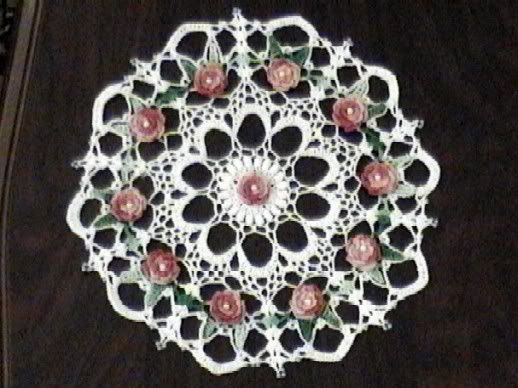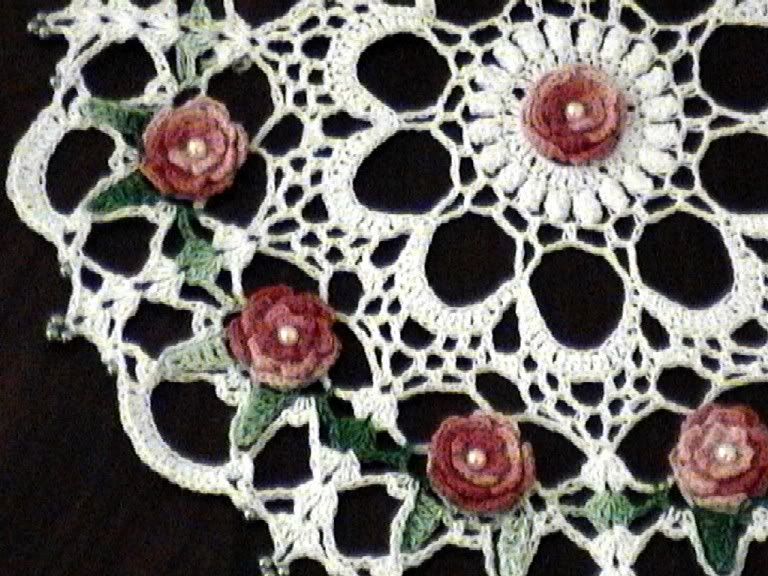 So here is the close up to give a full detailed account. I've used pearl beads for the centre of the Roses . and little green pearly beads for edging trims.
2). YARN
Now this is no new item for my usual blog friend . I've been posting the progress on this Draw-string Bag as I was making it. This is my own pattern . It was quick and fun to make too. I've added on a rose as an emblishment and ofcourse used rainbow toned blue beads ( you cant really see in the picture that well).
The contest will be ending on April 15th. And the results to be announced on the 16th of April. So please wish me luck. No really, I dont mind not winning at all, this was such fun. And the best part is we all get to pick one of the entries. First the one voted as No. 1 gets to take her pick from the contest entries, then the one voted as No.2 gets to pick her choice out of the remaining entries and so on...This is so exciting and such fun.