Diaper Bag- the last of the Nursery Project.
I have not posted in a while now. I've been working hard and crocheting even harder. It's been busy days with Ramadan and the school day finishing early. With the additional episode of flu and a season of cold,fever and dry cough all in a combined package. It's good to be feeling better again.
And finally the last of the peices of the nursery set I was working on. This is the diaper bag which took longer than I had thought - it was easy enough a pattern to work up but I had made some ( really silly ) mistakes.I was getting the bag right but the even look was not there ...somehow it looked 'traumatised'. And then eventually I did figure out the problem.....the yarn and hooksize were just not compatible!! This is the first time I came across such a thing. I kept working on the bag and it just didn't seem right , the look was not there. Then finally , it struck. I switched hooks and it was suddenly looking better. Funny how a simple project can make you sweat so much ,especially since you've done so many complicated projects before and that too without running into much difficulty.
I had expected this bag to be a breeze and put it off as the easy end project , but then I guess it was meant to be the other way around. Looking at it you'd never guess that such a simple pattern could give so much of work.Actually it wasn't the pattern at all, I made the basic error of using incompatible hook and yarn. Another lesson learn't ! Designing is no peice of cake.
Oh well, after that boring account of the making of the bag , you can now have a look at the pictures. Here they are as promised.
The front view and the back view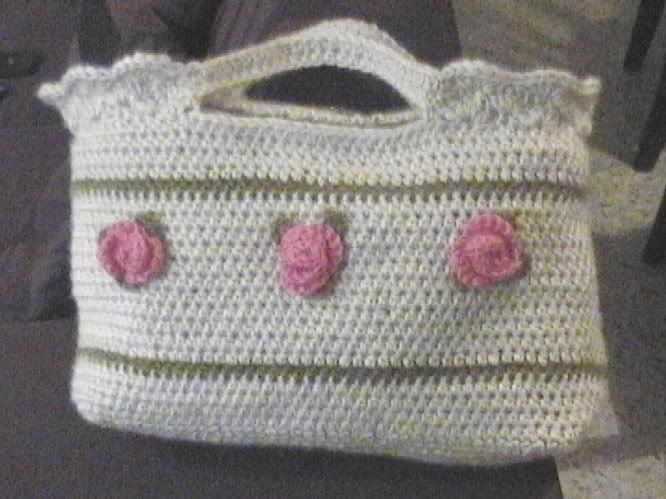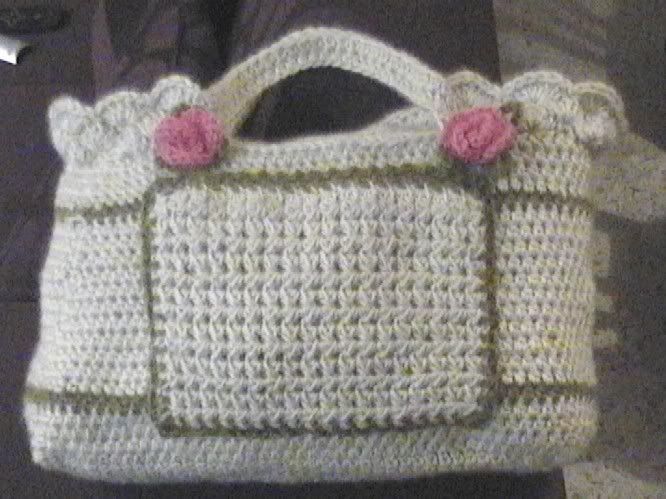 And then the top of the bag. As you can see I opted for using the buttons as closure. I had wanted to use a zip but I hate it when the zip snags at the yarn and it happens so often. I wanted to keep the baskety look of the bag and had to have a proper closure too because being a diaper bag , I had to make sure that nothing fell out of it when little hand get to exploring.