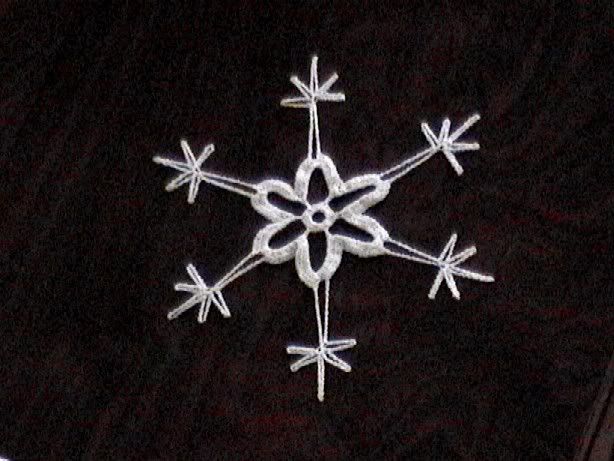 Here is my first blocked snowflake for monday. There are about 5 more that are yet to be blocked. You cannot make out in the picture ...I've used white thread with silver streaks. Gives a shimmering look to the snowflake, which ofcourse , is totally absent in the picture!!! The thread is so pretty. Again, another nameless thread in a cone , I bought in Bangalore last year. This is a lovely thread to work with and starches well too.
And this is yet another bell from the same thread. My own pattern...just fooloing around while watching T.V.
And some good news on the WIP front. I have a new FO to my list .I have finally finished the WIP centre peice . I cannot believe how relieved I am. I still have to wash and block it. It's huge ..I might need to use my bed for blocking it. But it does look pretty!! I'm glad I'm finished with my oldest WIP. Well, many more WIPs to go, I know, ...but I'm getting there. Finally, decided what I am going to make for the contest in the thread department( yarn project is still undecided....I wonder if I will enter in the yarn contest afterall !) I'll be getting all the ,aterials in order and start working on it tonight.