Tissue Box covers
With Ravelry blocked and my spirits really crashing down I've been not blogging much. Actually I'm still wondering at the loss of ravelry...it's where I had my main to do list and so many projects going !!!! Oh well, what can I say, life goes on, so I have to move on too. But why does it feel so demotivating. Maybe because now I have another huge pile of WIPs - well, yes I had many crochet alongs going on :( !!!
So I drowned my sorrows in crocheting harder than ever before and to get even with the situation I have been not following any patterns what so ever...not even stitch patterns ! This time it is strictly as you go method. Just kept it the way I liked it and ripped out whatever felt out of place. So here : another couple of projects done among the many more ( I'll post those later - been crocheting more than taking pictures! )
My latest projects are for a friend who requested me to make them for her. And I'm so glad she truly likes my work and actually appreciates the effort and time that goes into crocheting things or any other handmade stuff. Now, thats the kind of people I love to crochet for.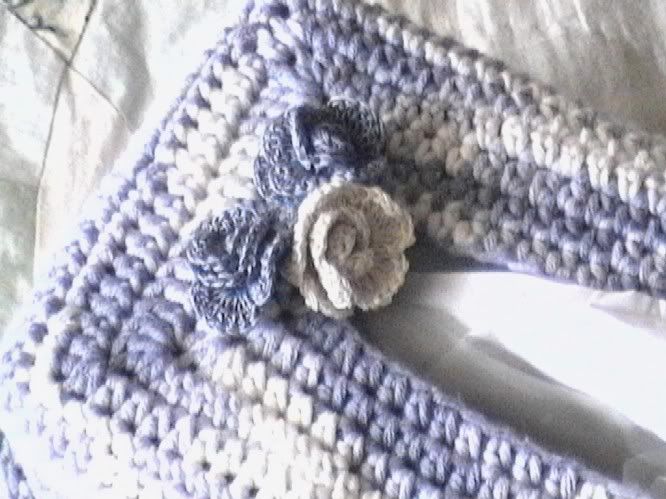 This one is called Waves because the bottom ruffles remind me of waves and the colours too. This yarn was just lovely to work with. The pictures don't show the blue so well except in the last picture. This yarn is called 4 Seasons by King Cole.It's a cotton and acrylic mix and a dream to work with. I loved working with this yarn and hope to get some of these in the near future for more projects.
The next one here is called Lacy Boudoir. Now I have no idea why this name popped in mind when I finished it. Again a ' make as it goes' pattern. Shall I call it my own design? Well, atleast to me it seems like my own as I had no idea what I was making until I was quite far ahead. I like the way it turned out. The yarn is so pretty it hardly required any detailing in pattern. Infact just a solid dc base would have looked wonderful but I had to make do with the quantity I had as I could not risk running out of yarn especially since it's not available out here. My friend got it from Australia.And coincidentally the yarn is called ASTRALIA by DMC and is a mix of cotton and acrylic with a single shining fibre running throughout it's length. All in all, nice yarn and very pretty effects too. But unfortunately it's been discontinued by DMC. I can never understand why discontinue the pretty stuff?
Anyways, let me know what you think of this design.