Kimberly's Weaved Hot pad
This looked very tempting from the moment I saw it in
Kimberly's
post. You can find her free pattern
here
. I wanted to make this hot pad but first had to finish off a couple of UFOs. Since I make it a point to keep at least one UFO working alongside a new project I usually have one UFO finished with every new project.
For this pattern, I looked around for some cotton yarn thick enough to be suitable for a hot pad but no luck.I have used 3 strands of size 10 crochet cotton thread instead. The problem with this is that even though it make the piece strong and sturdy , it also makes it very heavy. I got some dish cloths made in sugar n cream yarn (in some of the swaps ) and those yarns are so light ! I wish we got them here. Any hoo, I enjoyed working this project and thank you Kimberly for a lovely pattern and your generosity in sharing it.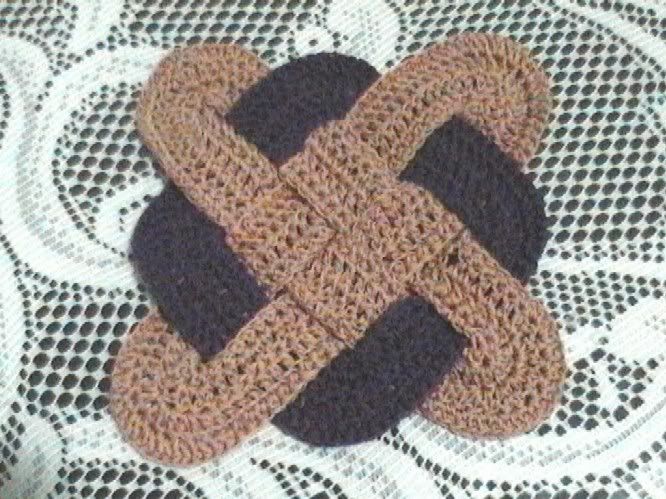 The pictures are not very clear ...the colour is deep purple and here it looks almost black. That's my photography skills , I guess.
And on the knitting front , I'm still learning. I have now started knitting simple lace patterns. I've just finished a faggot lace swatch . I tried it many times until I finally got it right. Now to move on to more lace patterns. I haven't made any real projects in knitting as yet - just some dish cloths to practice the different stitch patterns . a couple of small bags in garter stitch and a sampler scarf. I'll show the pics , I promise , but let me have something worth showing first...lol!