Another months has flown by!

It's September already and more than half way through too! Unbelievable how time flies! It's the back to school Rush....and back to routine too. And I haven't blogged in a loooong time. What can I say ...life is getting busier and internet isn't getting any friendlier!!
Long time since I blogged so there is a lot to blog about .Just how many times did I use the word ' blog'? So u can be prepared for many entries at a shot.
First of all , a huge relief that Jibbs, DS , doesn't hate school anymore. Infact , pleasantly shocking though, he has begun to look forward to it. And I really an thanking my lucky Starts for this.
After a long wait I finally got my swap doilies. Though I am still waiting for mine to reach safely.
I received this wonderful package from Denise at the Crochetville Doily Swap. It's an usual spiderweb pattern and I am wondering where I could get it. I'd love to make this doily.
Denise has also sent along a really beautiful floral doily book. There are gorgeous doilies in this one and I can hardly wait to start on it. There is also some green tea . This would be the first time I'll be trying it. Hmm....I like to try out different stuff. Thank you Denise , it's a lovely puffy.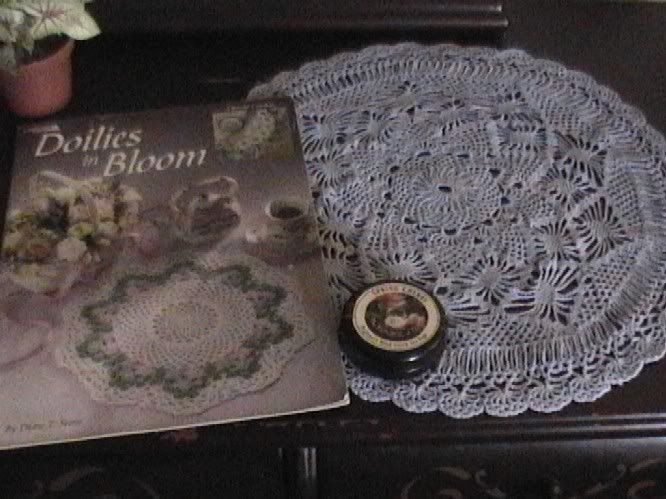 And for those of you who like to inspect things closely , here is a detail picture of the doily and you can see how pretty it is. It's done in a very pretty shade of blue but the picture here makes the colour look washed out. It is a very beautiful blue in person.