Instant gratification
Thats the charm of these little projects.I just love them because they are so fast, help use up the scraps and usually very useful in destashing. Not that I have a great yarn stash! But still it's nice to use up leftover yarn. My next few projects are all based on the same motto. I'm going to make a number of little projects and reduce my leftover yarn / thread.
This a flower and hand tawashi pattern by
Mimi
.As usual a very nice and easy to follow pattern. I love Mimi's patterns - they are very creative and well written too. I made these tawashis with brush yarn as I did not have the required rug yarn. And I am happy to find out that they work good with brush yarn as well. I'm using these to clean the glass ware. They clean well and no scrathes either !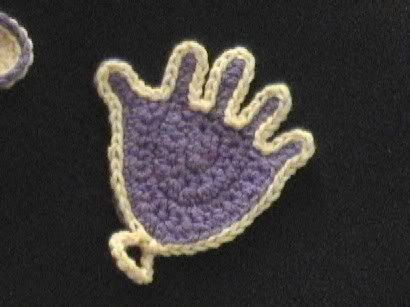 And then on the knitting front too, there has been progress. This is a dishcloth from a free pattern called Circle Cloth by Hakucho that I came across at Ravelry. I fell in love with the lovely cloth and the beautiful yarn used in the pattern . Ofcourse, I just used my scrap yarn left over from previuos projects as I was afraid to use my good stuff- I'm not at all confident about my knitting abilities.